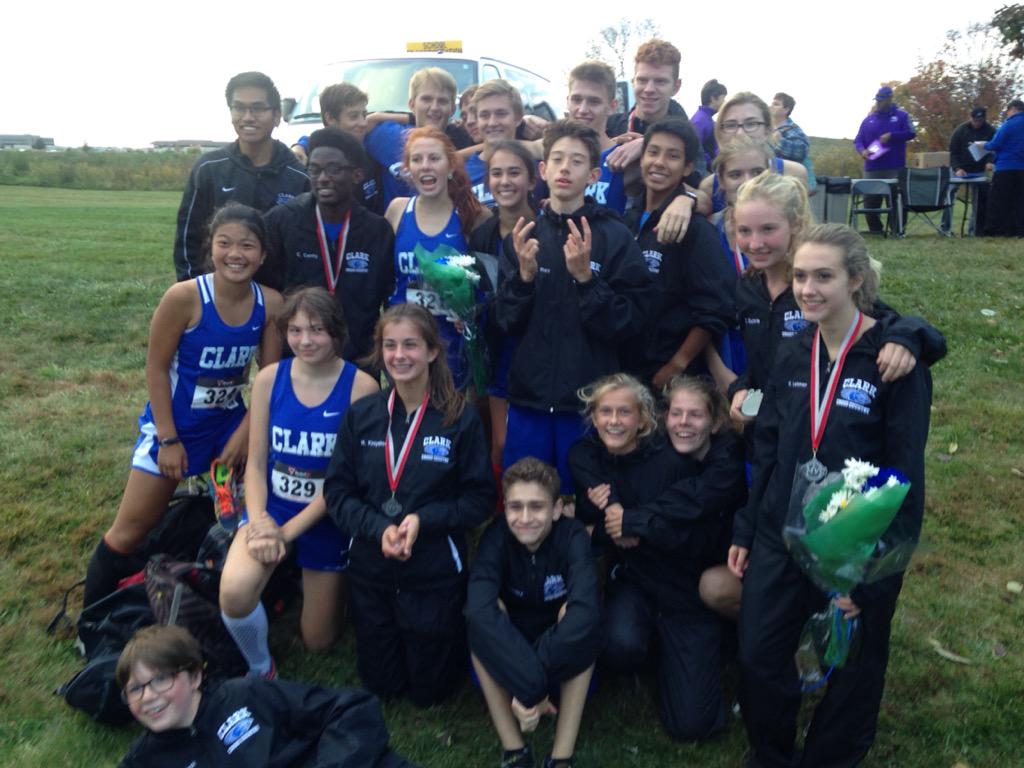 The Cougars Junior High & High School Cross Country Teams had a day to remember at the MVC Cross Country Championships Tuesday October 14th at Voice of America Park in West Chester.  The Junior High Boys won the MVC Championship, the Girls Junior High team finished in 3rd Place.
Top individual results for the Junior High Team included: GIRLS-Brielle Wales (4th), Dezzie Nieman (5th), Zoe Canty (8th)  BOYS-Jacob Miller (2nd), Ben Stetter (3rd), Evan Estes (7th).
The Cougar High School teams did something never done before in school history!!! The Boys High School Team won the MVC Championship barely edging out Summit Country Day.  This marked the first MVC Cross Country Championship in Clark Cougar History! Clark has been in the MVC since 2007.  The Silver Knights have won the league the previous few years.  The Clark Girls Team always was very impressive finishing Runner Up in the MVC!
Top Individual results for the High School Team included:
1st Team All League: GIRLS-Lily Marrero (3rd), Ellie Jose (8th)  BOYS-Ryan Estes (2nd), Jason Jarrold-Grapes (6th), Harry Murphy (7th)
2nd Team All League: GIRLS-Caroline Lehman (9th), Maia Kiniyalocts (14th), Eliza Lehman (16th) BOYS- Chris Canty (11th), Ben Hammond (15th)
A great job to their Head Coach Carl Wiers!!!!
The Cougars will continue on with their season Saturday 10/24 in the DII District Meet at Voice of America Park.